As of July 2019, the MCFRS public education section (now called Community Risk Reduction) has moved from the Vol and Community Ed Services Division to the Office of the Fire Chief. With that move, the links for public education documentation and Wufoo form have moved on Quicklinks. Here are directions to find the new location.
Go to Quicklinks.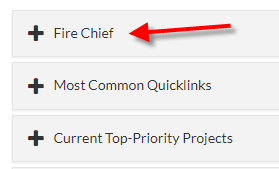 Click to expand the Fire Chief menu and choose Pub Ed Report Form.

Enter the password (as shown below) and click the Submit button.

Use the form.