Browser: Google Chrome is preferred and the company won't guarantee everything will work smoothly with other browsers (e.g., Edge, Firefox, Internet Explorer and Safari). 
How to Attach a File: You have two choices for any form which requests attachments. 
Attach the file(s) while filling out the form by clicking the attachment(s) icon, which resembles a paperclip and is located on the far-left side of the screen.
Wait until you sign and 

you'll be prompted when you click the 

Submit

 button. 

To attach a file, you would like the 

Click Here to Upload

 link

.

 You are limited to 250 MB

 per attachment.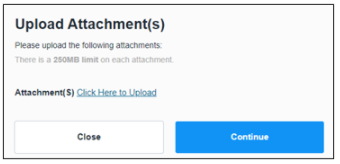 Required Fields: Any required field is marked with a red asterisk, typical of required fields on virtually any web form on the Internet. If the form is asking for information and you would not normally need to provide it when filling out the given form, simply mark the field N/A. (Note: N/A is not an appropriate substitute when you should know the information and simply have not found the information before beginning your form.)
E-Mail Notifications: Due to the SeamlessDocs software programming, you may get more than one status notification, depending upon the form you have signed. Likewise, they may end up going to your Spam/Junk folder, so keep an eye on that.